Eastern Shore Rabbit Rescue Awarded $4,000 Grant
Funds from "Get Pumped for Pets" will be used to cover spay/neuter expenses of the Denton Rescue Bunnies
FOR IMMEDIATE RELEASE
October 27, 2018
Contact: Cora Dickson, info@esrrec.org
Eastern Shore Rabbit Rescue and Education Center, Inc. (ESRREC), headquartered in Rock Hall, MD, today announced it has been awarded a Program Development Grant from regional charity Get Pumped for Pets. The $4,000 grant will be used to spay and neuter 30 baby rabbits born in the aftermath of a large-scale rescue of abandoned pet rabbits in Caroline County.
Get Pumped for Pets is a 501(c)3 non-profit addressing the critical needs of community rescue organizations in Queen Anne's, Kent, Talbot, Caroline, and Dorchester counties. Most of the grant funds are raised through a race/walk held every spring on Kent Island. This year marks the first time in its seven-year history that Get Pumped For Pets awarded a grant specifically for rabbits.
ESRREC, a nonprofit organization that provides temporary shelter and finds homes for abandoned pet rabbits, is the only rabbit rescue serving the Eastern Shore. Since it opened its Main Street shelter in April 2015, ESRREC has taken in 162 rabbits, facilitated adoptions for 96 rabbits, and spayed/neutered 105 rabbits.
"These funds are very much needed for an extraordinary situation that our volunteers have been dealing with this year," said Cora Dickson, President of ESRREC. "We are so grateful to Get Pumped for Pets for helping us prepare these young rabbits for their forever families."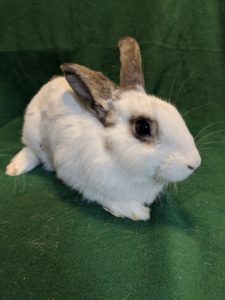 In May, ESRREC collaborated with Caroline County Animal Control and Caroline County Humane Society on a rescue operation in Denton, MD. As a result, 50 domestic rabbits – 20 adult and 30 baby bunnies born shortly thereafter – were saved from living outside in dangerous, unhealthy conditions.
Despite their rough life outdoors, the rabbits (which became known as the "Denton Rescue Bunnies," developing their own fan base on Facebook) rapidly grew accustomed to being handled, quickly learning to trust and even be affectionate towards humans. Now safely indoors, they will no longer fear for their lives in the face of extreme weather, predators, and disease.
Initially, ESRREC partnered with Caroline Humane to ensure that the Denton Rescue Bunnies received medical attention, including spay/neuter. ESRREC volunteers also assisted with adoptions for the adult rabbits through education and outreach events. In September, all of the baby bunnies were transferred from Caroline Humane to ESRREC, with many of them placed in temporary foster families.
The baby rabbits are expected to be available for adoption in late November/early December.
---
About Get Pumped for Pets
Get Pumped for Pets was started in 2011 as a simple 5K race. It has grown to be one of the most popular races in the area, and now holds 5, 10, and 15K distances annually. 100% of runner registration fees go directly to help animals in need, and over the years, Get Pumped for Pets has given away over $97,000 to the animals of Maryland's Eastern Shore. Race day next year is Sunday, March 31.
---
About ESRREC
The Eastern Shore Rabbit Rescue and Education Center (ESRREC), a nonprofit corporation with 501(c)(3) status, is based in Rock Hall, Maryland. ESRREC ensures the health, safety and emotional well-being of abandoned pet rabbits on Maryland's Eastern Shore through shelter and care, with guidance to the families who adopt them as companion animals. ESRREC relies on volunteers and donations to support its mission. Its geographic coverage focuses primarily on five Maryland counties east of the Chesapeake Bay: Kent, Queen Anne's, Cecil, Talbot, and Caroline. ESRREC also conducts outreach activities in neighboring Delaware.
---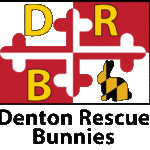 About the Denton Rescue Bunnies (DRB) Outreach Group
facebook.com/dentonrescuebunnies/
Based out of Ridgely, MD, volunteers for ESRREC created the "Denton Rescue Bunnies Outreach Group" to implement ESRREC's partnership with Caroline County Humane Society (CCHS) following the rescue of the rabbits in early May. In addition to taking care of the rabbits and their offspring, the DRB Outreach Group conducts adoption events, educates adopters/foster families, and raises awareness about the rabbits on social media.
---
---
ESRREC Press Release Archives: Click here